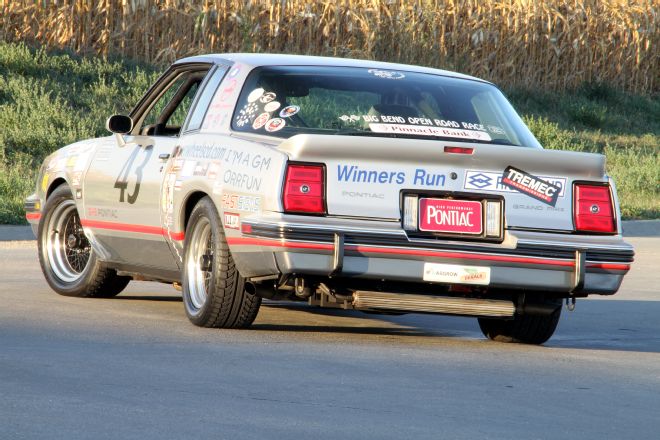 As much as I'm inclined to cringe a bit at the thought of the rarity of the 1986 Grand Prix 2+2 increasing when stuff like this happens, you have to admit, they did this up right.  A 502 big block and 6-speed combo pushes this bubble-butt Pontiac (yes I just said that**) over 160mph.  Not too shabby.
With the popularity of the 1978–1987 Monte Carlo, the aftermarket heavily supports the G-body platform, and dropping in a big-block Chevy is very easy. "We spoke to GM Performance Parts at SEMA 1997, and they sold us on a new ZZ502 crate motor," Chris says. "We then added a Richmond six-speed manual transmission, but have since installed a Tremec T-56 Magnum six-speed and added close-ratio overdriven gears for Fifth and Sixth to maximize high-speed performance."
Personally, I would have taken a "plain jane" Grand Prix and just put a nose kit on it, but that's just me.  I'm sure I'll hear about that in the comments, though.
** I meant it in the best way possible, of course.
Link: This 1986 Grand Prix 2+2 Can Conquer Modern Muscle at 160+ MPH