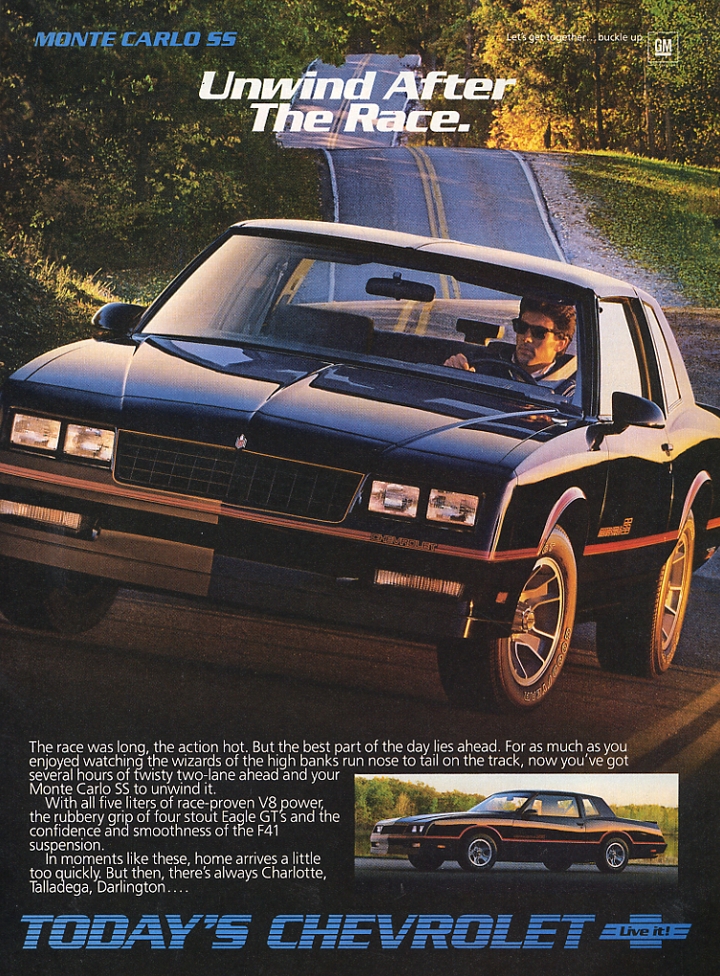 In 1986 the Chevrolet Monte Carlo SS was the top of the Chevy G-Body pack.  The strong connection to NASCAR (you remember, when it was actually STOCK cars…) made this a race car for your own driveway.  So, you know, you could pretend you were a race car driver and make "vroom vroom" noises and stuff on your way home from the track.
Yeah, alright, so it was just a mere 180HP (not a typo) 305 cubic inch "race proven" (snicker) V8 under that hood.  But it looked good, didn't it?  The F41 suspension did help it out in the corners, but not really as much as we hoped, despite the "rubber grip" of those tires.
Unfortunate that GM didn't see fit to at least bump it up to 350 cubic inches.  Maybe throw the 230HP (!) Corvette L98 in there.  At least make it a competitor for the up-and-coming Grand National.
Unwind After The Race.

The race was long, the action hot.  But the best part of the day lies ahead. For as much as you enjoyed watching the wizards of the high banks run nose to tail on the track, now you've got several hours of twisty two-lane ahead and your Monte Carlo SS to unwind it.

With all five liters of race-proven V8 power, the rubbery grip of four stout Eagle GT's and the confidence and smoothness of the F41 suspension.

In moments like these, home arrives a little too quickly.  But then, there's always Charlotte, Talladega, Darlington….

TODAY'S CHEVROLET