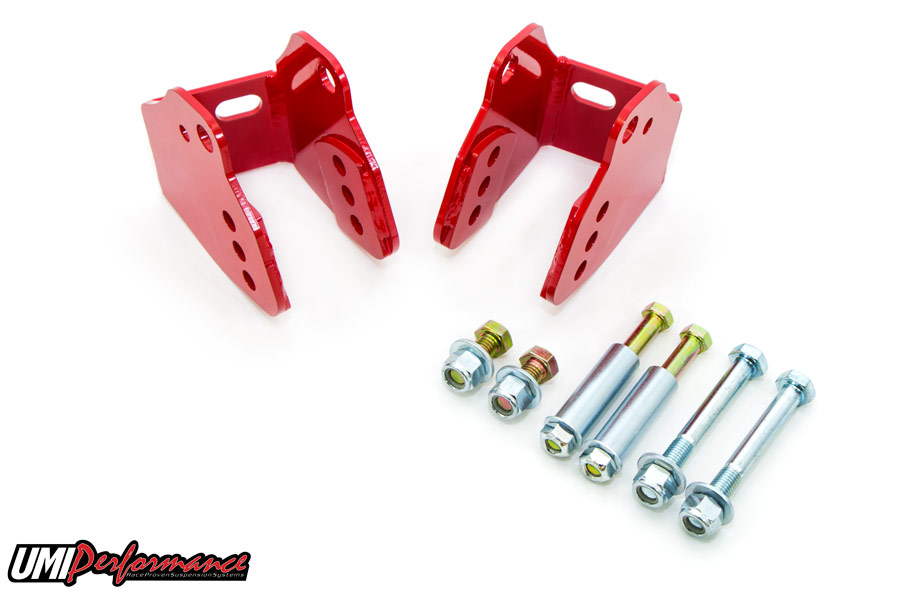 UMI Performance has released a set of control arm relocation brackets for your G-Body.
Bolt in Rear Control Arm Relocation Brackets for the 1978-1988 GM G-Body
P/N 3018
Priced at $129.99/each

Wheel hop or traction issues? UMI has the solution! Optimize your vehicle's instant center and improve forward traction by lowering the rear of the lower control arm improving vehicle instant center. These bolt-in brackets are CAD designed to accommodate factory lower control arms as well as all popular aftermarket styles. Robust flanges inside the brackets add reinforcement and ensure factory bushings bolt right in. Brackets installed can provide 60-foot reduction and an overall improvement in launch consistency. Brackets are constructed of 3/16″ mild steel and CNC laser cut for precision tolerances. Relocation brackets are designed to work on both lowered and non-lowered vehicles and feature multiple settings to optimize vehicle handling and traction. All UMI products are built from US Steel and are available in black and red powder coat. P/N 3018 is manufactured, tested and raced out of Philipsburg, PA – USA.
Get yours here: http://umiperformance.com/catalog/index.php?main_page=product_info&cPath=8_62&products_id=924